Sakhi Samwad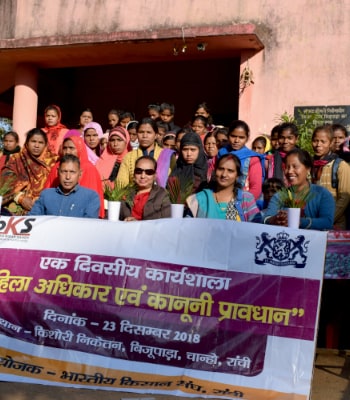 The Program was held on 9th January 2019 at Bijupara, Ranchi organized by JSLPS Tangar, Chanho Block in collaboration with BKS. The main objective of the program to discuss the problems of Sakhi didi's with the resource persons present in the program. The chief guest of the program was Gangotri Kujur, MLA of Channo block. And the other guests were B.D.O of Chanho Block, Dist. Bisutri Chairperson, M.P., JSLPS Block Coordinator, L.E.O, and others. The role of BKS in the program is to promote about the organization and its work and their new project Swavalamban, Help JSLPS in the hospitality and arrange foods for all participates.
JSLPS collaborate with BKS for the Sakhi Samwan Meeting. Our organizations setup a stall in the meeting premises and distribute pamphlets of the new project swavalamban. We interact with the people who came in the meeting and share information about our works. We also promote our new project swavalamban and give the audience brief details of it. We gave a set of the pamphlets of our running projects along with a copy of our annual report of 2017-18 to the entire honorable guest. Many young girls were show interest in our work and want to enroll their name in skill development training. The guests who came to our stall were congratulating us for our works and ask us about our new project.
Swabhiman Betiya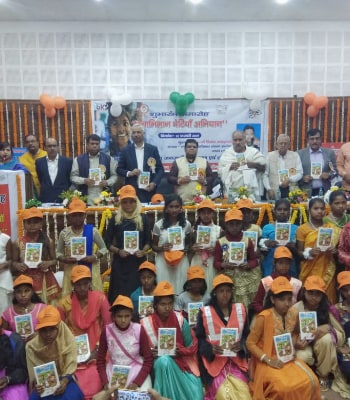 The Swabhiman Batiya campaign was launched by Bal Kalyan Sangh & ATSEC India at Dr. Ram Dayal Munda Tribal Research Institute, Ranchi on 16th Feb 2019. The agenda behind program was to strengthening and promoting the women empowerment schemes in Jharkhand like "Mukhya Matri Sukanya Yojna" and to create awareness among people about the issues like Child trafficking, Child Labour, Child marriage, Child abuse, Women Abuses, Women Protection and Women Empowerment etc.
Many renowned persons like Shri. Priyank Kanoongo, Chairman, NCPCR; Padmashree Ashok Bhagat, Social Activist cum Secretary-Vikas Bharti; Shri. D. K. Saxena, IFS, Director, JSCPS; Shri. Ravindra Kr. Gupta, Member, JSCPCR, Shri. Avijit Ghosh, Ex CMD of HEC, Shri. Manabendra Nath Mandal, Chairperson, ATSEC South Asia, has participated with the State Coordinator-ATSEC Jharkhand cum Secretary, BKS- Shri. Sanjay Kr. Mishra. 150 girl students from different schools came to participate in the program.
In this campaign a bus equipped with pamphlets and posters of mentioned issues will running in the districts of Ranchi, Lohardaga, Khunti, Chaibasa, Gumla and Simdega to spread awareness among the community. Another important part of the program was distribution of 1000 copies of exam warrior books written by the Honourable Prime Minister of India- Shri Narendra Modi. The books were distributed to girl students of class 8-9 of Govt. schools like KGBV in field area of BKS. Program highlight was also introducing the new idea of BKS i.e. BKS Info Lady. 50 girls of Jharkhand who were either survival of human trafficking or child marriage rescued were provided with bicycles and apron of BKS Info Lady, so that, they can not only be connected with their studies along with also spread awareness about the government schemes among their nearby villages.
Bal Adhikar Mahotsav (Hausla) 2018
On the occasion of 29th International Child Rights Day around 200 children of Observation Homes and Kishori Niketan assembled together to display their talents at Saptrishi Bhawan and Rajendra Bhawan on 23-24th Nov, 2018. The main purpose of the event was giving the children a platform to showcase their talent and empowering them in their skills so that they are more motivated and encouraged. The program was organized by JSCPS and BKS. On the occasion, Shri. D. K. Saxena, IFS, Director, Jharkhand State Child Protection Society; Smt. Arti Kujur, Chairperson, JSCPCR Shri. Amitabh Kaushal, Principal Secretary, Dept. of Social Welfare (WCD) and Social Security, GOJ along with other dignitaries, representatives of NGO's, CHILDLINE, CCIs and number of children from different CCI's of the districts in Jharkhand were present. The children showcased their talent in the programme which was appreciated by the Chief Guest- Shri. Raghubar Das, Hon. Chief Minister, Jharkhand.
Under Hausla programme 25 children who are survivors of trafficking and child labour were selected to showcase their talents in performing arts like paintings, street play, speech based on theme at national level programme- Bal Mohatsav at New Delhi from 27-29 November 2018. They were also given Rs 2000 as part of Hausla programme. It was a proud moment for them. Entire event was made memorable and children became cynosure of Chief Minister Raghubar Das who graced the occasion to celebrate International Child Rights Day at Rajendra Bhawan on November 24.
District level Child Convention on Child Protection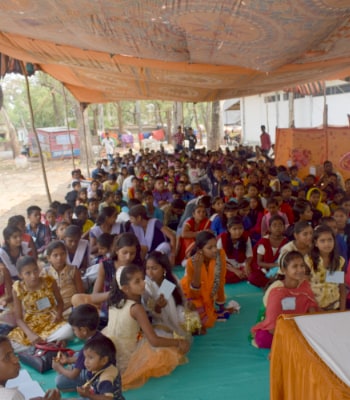 The convention was held at Birsa Sanskritik Bhavan, Koderma. The main focus of the programme was giving a platform to the children to share their problems, experience and thoughts in front of the JSCPCR and other district level govt. officials. The guest list was also very selective as the organizers did invite only those people who are working for children like the Chairpersons of JSCPCR, Chairpersons of Zilla Parisad, DSW of Koderma etc. In the programme the children of Balmach shared their experience, how they were freed from child marriage and child labour with the help of BKS team. They also shared their problems which they were facing in their daily life especially the problems related to their education. Total 252 children did participate in this district level convention. Most of them were the students of KGBV schools and members of Balmanch. Two major high lights of the program is that the distribution of 200 copies of "Exam Warrior" book written by Mr. Narendra Modi and distribution of 44 bi-cycles to the hard to reach children.
One day district level consultation on Child Rights and Protection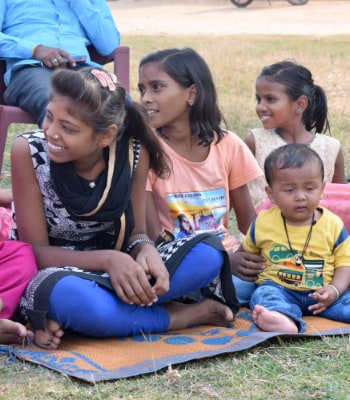 The consultation was held at Birsa Sanskritik Bhawan in Koderma district on November 27th, 2018. It was jointly organized by Bal Kalyan Sangh (BKS), Kailash Sathyarthi Children's Foundation and District administration, Koderma. Chief Guest on the occasion was Koderma S. P.- Dr M. Tamil Wanan who promised all required help and assistance to stop child marriage in support with BKS. "I am looking forward to stop child labour and child marriage completely instead of controlling in Koderma district," SP pointed out. Trainer Ms. Jyoti Mathur detailed about child protection issues, CWC Member of Koderma Ms. Rupa Samanta supported government's initiative in stopping social evils etc.
Sensitization on Comprehensive Manual for Safety and Security of Children in School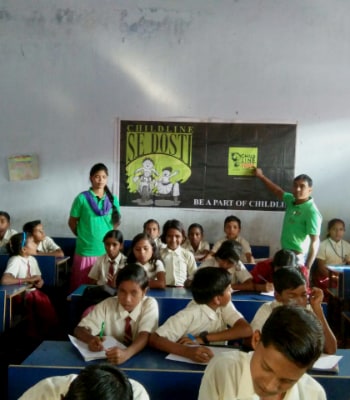 The program was held on 30th Aug, 2018 at Ranchi, Jharkhand organized by NCPCR and JSCPCR in collaboration with NACG-EVAC India and BKS. The purpose of the Sensitization program was to sensitize the School Administration and Other Stakeholders on the Manual on Safety and Security of children in Schools developed by NCPCR. The manual will act as comprehensive guidelines for the Education Departments, Educational Boards, school staff, students etc. This will also empower students to learn about safety measures. Chief Guest and Hon. Guests were Smt. Aarti Kujur, Chairperson, JSCPCR; Shri. Ravindra Kumar Gupta, Member, JSCPCR; Shri. Sanjay Kr. Mishra, Treasurer & Convenor-CP, NACG-EVAC India, Smt. Akansha Ranjan, Director, Primary Education, GOJ; Shri. Ratan Mahavar, DEO, JEPC; Shri. Madhulika Sharma, Technical Expert, NCPCR and Shri. Rajnikant Yadav, Technical Expert, NCPCR.
State-level consultation on Trafficking of Person (TOP) Bill, 2018 and Campaign towards ending Child Marriage and Child Trafficking
The consultation was held on 5th Oct, 2018 at Ranchi, Jharkhand organized by JSCPCR, NACG-EVAC India, ATSEC Jharkhand, CINI Jharkhand and BKS. The purpose of the consultation was to appraise the NGO representatives, Govt. Officials, PRI Members about the provision of TOP Bill, 2018. Provision of TOP Bill 2018 was discussed followed by few recommendation were proposed by various stakeholders to stop child marriage and child trafficking which are as follows:
PRI members will adopt five villages and in each village regular meeting will be held to discuss above issues.
This campaign will cover 100 panchayats in collaboration with NGO partners
MPs and stake holders should pressurize government to pass TOP BILL in Rajya Sabha as the Cabinet has given its nod and is introduced in the Lok Sabha, as once it comes into force the legislation will break the backbone of this crime as its provisions are strong like:
The anti-human trafficking Bill aims to solve the massive problem of trafficking and the move was long overdue in India.
Aggravated forms of trafficking which include trafficking for the purpose of forced labour, begging, trafficking. The bill also includes trafficking for the purpose of marriage.
The bill proposes to provide time bound trial and repatriation of victims. Immediate protection of rescued victims and their rehabilitation, the victims are entitled to interim relief within 30 days to address their physical and mental trauma.
Appropriate relief within 60 days from the date of filing of charge sheet. The Bill aims to have designated courts in each district for the speedy trial of cases.
State-level Bal Chaupal Program to Mark World Day against Child Labour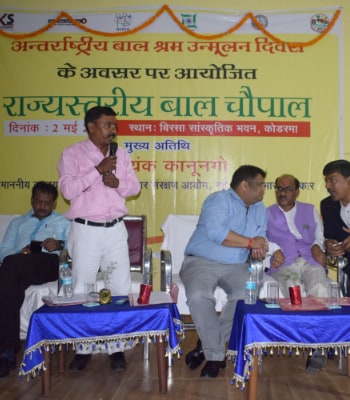 The day long prorgramme kicked off with orientation of children of Bal Manch by appraising them about chaupal programme, child rights and protection by volunteers of Bal Kalyan Sangh (BKS), Jago Foundation and Rashtriya Jharkhand Sewa Sansthan, TDH at Panchayat Bhawan, Koderma. This was followed by task provided to children who were divided into groups and handed over chart papers to write about biggest challenges faced by students in schools and anganvadi centers and how to overcome them for conducive environment. In chart paper members of Bal Manch were also suppose to mention about problems faced by children working in mica mines. After series of interactions and discussion the Bal Manch members disclosed the problems faced by the students in school along with problems faced by the Anganwari centres. Children were also appraised about voting system and then directed to exercise their votes. 'State Level Bal Chaupal programme' which was inaugurated by Chairperson of NCPCR   Priyank Kanoongo, former member of SCPCR Sanjay Kumar Mishra and district level officials. In the state level programme children of Bal Manch, members of SMC and Village Child Protection Committee of 32 villages of Koderma and Giridih districts and 270 school children participated.
Research & Study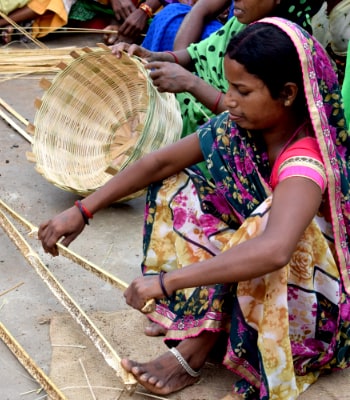 Conducted a National Study on "Education Status of Traditional Sex Workers in India" covering 5 states namely Delhi, Haryana, Madhya Pradesh, Gujarat and Rajasthan supported by National Commission for Protection of Child Rights (NCPCR), New Delhi in 2018.
Conducted a "Fact finding Survey in respect to well being of children and child labour working in the MICA mining areas of Koderma and Giridih of Jharkhand" supported by National Commission for Protection of Child Rights (NCPCR), New Delhi in 2018.
A Research Study on "Human Trafficking in Jharkhand" in with the support of Dr, Ramdayal Munda Tribal Research Institute, Dept. of Welfare Govt. of Jharkhand